Dr. Kangdong Liu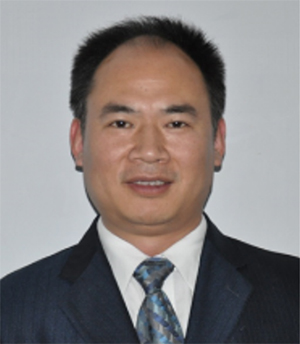 Kangdong Liu PhD.
Education and Qualifications
2003/2006 Doctor of microelectronics andsolid-electronics(major in biochip),Shanghai Institute of Microsystem and Information Technology,Chinese Academy of Sciences, (SIMIT- CAS,Shanghai, China)
2000/2003 Master of pathophysiology,Zhengzhou University (Zhengzhou, China)
1997/2000 Bachelor of clinical Medicine,Zhengzhou University (Zhengzhou, China)
1992/1995 Henan Medical University(Zhengzhou, China)
Work Experience
2014/ professor in Chemoprevention, The China-US(Henan) Hormel cancer institute
2011/2013 Associate professor, School of Basic Medical Sciences, Zhengzhou
University
2010/2011 Senior research assistant, Korea reasearch institute of bioscience and
biotechnology
2008/2010 Visiting scholar,TheHormelInstitute ,University of Minnesota
2006/2008 Lecturer,Basic Medical College of Zhengzhou University,responsible for give pathophysiology course to medical college students and do research on biological treatment of tumours.
Grant support:
1. Early detection biomarker of lung cancer with nanotechnology: national basic science research program.
2. The anti-tumor mechanism research of cirsiliol: Henan sciences fundation.
3.Mechanism search of resveratrol amine compounds inhibit the malignant transformation of skin cells. National sciences foundation of China
Selected Publications:
1: Li H, Liu K, Boardman LA, Zhao Y, Wang L, Sheng Y, Oi N, Limburg PJ, Bode AM, Dong Z. Circulating Prostaglandin Biosynthesis in Colorectal Cancer and Potential Clinical Significance. EBioMedicine. 2015 Feb 1;2(2):165-171. PubMed PMID:25750933; PubMed Central PMCID: PMC4347518.
2: Li H, Zhu F, Boardman LA, Wang L, Oi N, Liu K, Li X, Fu Y, Limburg PJ, Bode AM, Dong Z. Aspirin Prevents Colorectal Cancer by Normalizing EGFR Expression. EBioMedicine. 2015 May 1;2(5):447-455. PubMed PMID: 26097892; PubMed Central PMCID: PMC4469241.
3: Li S, Zhang Z, Tang H, He Z, Gao Y, Ma W, Chang Y, Wei B, Ma J, Liu K, Ma Z, Wang Q. Pathological complete response to gefitinib in a 10-year-old boy with EGFR-negative pulmonary mucoepidermoid carcinoma: a case report and literature review. Clin Respir J. 2015 Jul 6. doi: 10.1111/crj.12343. [Epub ahead of print] PubMed PMID: 26148572.
4: Zhang Y, Yao K, Shi C, Jiang Y, Liu K, Zhao S, Chen H, Reddy K, Zhang C, Chang X, Ryu J, Bode AM, Dong Z, Dong Z. 244-MPT over comes gefitinib resistance in non-small cell lung cancer cells. Oncotarget. 2015 Oct 26. doi:10.18632/oncotarget.6236. [Epub ahead of print] PubMed PMID: 26517520.
5: Jiang Y, Wu Q, Yang X, Zhao J, Jin Y, Li K, Ma Y, Chen X, Tian F, Zhao S, Xu J, Lu J, Yin X, Liu K, Dong Z. A method for establishing a patient-derived xenograft model to explore new therapeutic strategies for esophageal squamous cell carcinoma. Oncol Rep. 2016 Feb;35(2):785-92. doi: 10.3892/or.2015.4459. Epub 2015 Nov 26. PubMed PMID: 26718633.
6: Jin G, Zhao J, Yang YI, Liu K, Jiang Y, Zhang X, Zhang Y, Huang Y, Lu J, Dong Z. JAK/STAT3 signaling pathway mediates endothelial-like differentiation of immature dendritic cells. Oncol Lett. 2015 Dec;10(6):3471-3477. Epub 2015 Sep 25. PubMed PMID: 26788152; PubMed Central PMCID: PMC4665379.
7: Xu L, Long J, Wang P, Liu K, Mai L, Guo Y. Association between the ornithine decarboxylase G316A polymorphism and breast cancer survival. Oncol Lett. 2015 Jul;10(1):485-491. Epub 2015 May 12. PubMed PMID: 26171056; PubMed Central PMCID:PMC4487138.
8: Ma J, Guo X, Zhang S, Liu H, Lu J, Dong Z, Liu K, Ming L. Trichostatin A, a histone deacetylase inhibitor, suppresses proliferation and promotes apoptosis of esophageal squamous cell lines. Mol Med Rep. 2015 Jan 28. doi:10.3892/mmr.2015.3268. [Epub ahead of print] PubMed PMID: 25634603.
9: Thimmegowda NR, Park C, Shwetha B, Sakchaisri K, Liu K, Hwang J, Lee S, Jeong SJ, Soung NK, Jang JH, Ryoo IJ, Ahn JS, Erikson RL, Kim BY. Synthesis and Antitumor Activity of Natural Compound Aloe Emodin Derivatives. Chem Biol Drug Des. 2014 Oct 17.doi: 10.1111/cbdd.12448. [Epub ahead of print] PubMed PMID:25323822.
10: Zang W, Wang T, Wang Y, Li M, Xuan X, Ma Y, Du Y, Liu K, Dong Z, Zhao G. Myricetin exerts anti-proliferative, anti-invasive, and pro-apoptotic effects on esophageal carcinoma EC9706 and KYSE30 cells via RSK2. Tumour Biol. 2014 Dec;35(12):12583-92. doi: 10.1007/s13277-014-2579-4. Epub 2014 Sep 6. PubMed PMID: 25192723.